THE 2020 INTERNATIONAL MEET IN CHATTANOOGA HAS BEEN CANCELLED. CLICK ON "MEET CANCELLATION LETTER BELOW.
********************************************************************
Click the link below to read a great article on Larry Swanson.
OZARK TRAILS CHAPTER STUDEBAKER DRIVERS CLUB
SOUTHWEST MISSOURI, SOUTHEAST KANSAS, NORTHEAST OKLAHOMA, NORTHWEST ARKANSAS
YOU ARE ALWAYS WELCOME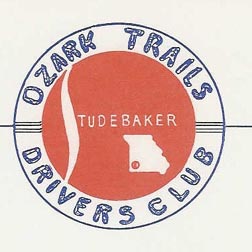 Our regular meeting dates are on the second Sunday of each month unless a change is voted by our membership. Meetings are held at various locations in the four state area with an attempt to equalize driving distances for our members. You will find a meeting calendar posted on another page of this website. We welcome all persons interested in Studebakers whether you currently own one or not. Our annual dues are $20 and are paid each December or January. Member dues joining after June 30th are pro-rated to $10 for the remainder of the year. You will find a printable Membership Application below the list of officers on this page. A condition of Chapter membership is that you must also be a member of the International Studebaker Drivers Club, a policy established by the International Studebaker Drivers Club Board of Directors for insurance purposes. You will receive the finest automotive magazine each month named Turning Wheels from the International and a very nice monthly newsletter from our Ozark Trails Chapter Editor.
________________________________________________________________________________
President: William Ripple - 879 Cash Spring Rd, Ozark, MO 65721 (417) 581-2905 - budbrip@hotmail.com
Vice President: Myron McDonald - 22 E Church St., Aurora, Mo 65605 - (417) 678- 4466
Secretary: Beverly Ripple - 879 Cash Spring Rd, Ozark, Mo 65721 (417) 581-2905 - budbrip@hotmail.com
Treasurer:Rick Crites, P O Box 925, Bolivar, Missouri 64613 (417) 777-5120 - drummer50us@yahoo.com
Membership: Gary Sanders - 216 N. 36th Street, Nixa, MO 65714 - (417) 582-0608 - gsanders@cebridge.net
Goodwill: Doris Jones - 1094 S Mill Street, Rogersville, MO 65742 - (417) 753-2563
Historian: Donna Sanders, 216 N. 36th Street, Nixa, Mo 65714 - (417) 582-0608 - gsanders@cebridge.net
Tour Master: Larry Walton, 603 Sunshine Dr, Aurora, MO 65605 (417) 763-0513
Tour Master -Wilber Kaylor, P O Box 2088, Ozark, MO 65721 Cell 417- 353-6898 wilberkaylor0984@hotmail.com
Newsletter Editor: Charlie Musgrove - 5468 N 52nd W Avenue, Tulsa, Ok 74126 - 918-425-7190 - cdmusgrove@atlasok.com
Click below for a printable Membership Application